Dining at Cedar Creek Country Club is always special. Not only does the club serve up delicious food and drinks six days a week, but a friendly, courteous staff works hard to make your dining experience memorable.
Tuesday
Bar Service: 11AM-8PM Dining: 12PM-8PM
Wednesday
Bar Service: 11AM-8PM Dining:11AM-8PM
Thursday
Bar Service: 11AM-8PM Dining:11AM-8PM
Friday
Bar Service: 11AM-10PM Dining: 11AM-9PM
Saturday
Bar Service: 11AM-9PM Dining: 11AM-8PM
Sunday
Bar Service: 11AM-6PM Dining:11AM-5PM
To Go Orders Welcomed! 903.498.6761
---
September Specails!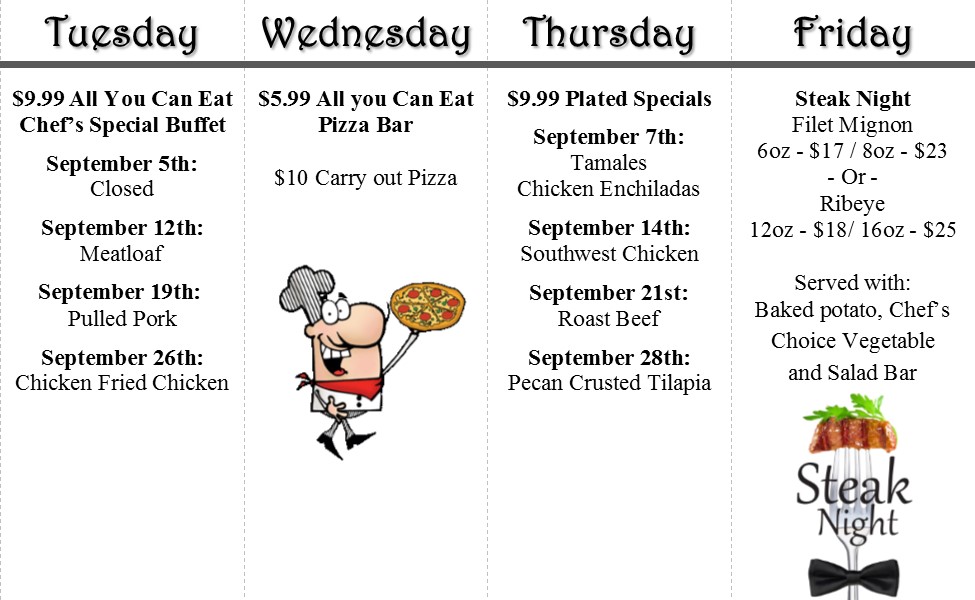 September News!

Please come by and congratulate our very own Levi Himes on his promotion to Restaurant manager! Levi has been with us for a little over a year and has some great ideas about how to move forward!